Fullblood Wagyu Calves
WHY WAGYU?
– YOUR QUESTIONS ANSWERED
Q – Is Wagyu the World's best tasting tender beef?

According to Dr Jerry Reeves of Washington State University, "Wagyu beef is the highest quality meat in the world". Dr Jerry Reeves has spent more than a decade researching Wagyu genetics and how they compare with other beef breeds in an extensive study at Washington State University in the United States.
Evidence in the United States indicates that the marbling in Wagyu beef contributes markedly not only to tenderness and juiciness but importantly to taste.
Wagyu carcasses scooped the pool at the Casino Beef Week Paddocks to Palates competition which shows that Wagyu beef is a definitely a cut above the rest.
According to Mr Bob Talbot, past president of the Australian Wagyu Association, "This latest result proves unequivocally that Wagyu genetics have the capability of significantly improving the beef eating experience in the domestic market. The Japanese have developed a breed from carcass information collected over many decades that has the genetic ability to produce meat texture and fat characteristics that are very acceptable to the human palate," said Mr Talbot.
There is a real opportunity in Australia for domestic producers to raise their herds to the level of quality beef that is growing in demand around the world including in Australia.
Q What makes Wagyu Beef consistently healthier, tastier and more tender than other meat?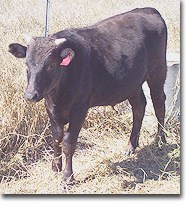 W001 Black Gold Yukan -
Sire Terutani
Wagyu has a softer fat which improves the meat flavour and taste. The improvement is due to the higher ratio of mono-unsaturated fatty acids (MUFA) to saturated fatty acids. The IMF of Wagyu cattle is twice as high in mono unsaturated fat as traditional breeds. This results in a 'healthier' product. Research that first identified this higher level of mono-unsaturated fat in Wagyu cattle has also considered that this is the explanation for the characteristic superior flavour.
Other research have indicated that fatty acids found in Wagyu beef play a role in cancer prevention. A review on the effects of fatty acids on breast cancer has reported that concentrations of conjugated linoleic acid = 1% in diets is sufficient to provide significant protection from cancer according to Charles Gaskins PHD Beef Cattle Genetics and Statistics, Washington State University.
Marbling is the most reliable component of meat taste and tenderness. Wagyu are most renowned for their inherent marbling ability or intramuscular fat (IMF). They have recorded 17% more IMF by chemical extraction than Angus with the same marbling score.
Generally the higher the amount of marbling the higher the grade of meat.
In Australia over the last 20 years, we have been educated to eat lean meat. This coincided with the race to breed animals with superior growth rates which has resulted in production of carcasses that do not 'finish' well because they are excessively lean.
Excessive leanness results in a meat product which will produce an unsatisfactory eating experience because of lack of juiciness, flavour and tenderness.
Q What benefits do Wagyu bring when cross bred with traditional breeds of cattle?

STRENGTHS OF WAGYU BREED
Marbling ability (higher content of intramuscular fat)
Carcass is twice as high in mono saturated fat than other breeds with lower levels of saturated fats, thus healthy, more tender and superior tasting beef
Softer fats enhancing meat flavour
Meat texture is finer (more tender)
No excessive back fat
Large Rib eye
Calving ease due to small calves

High fertility and level of sexual activity
Docile temperament

Early female maturityAccording to the Australian Wagyu Association, Wagyu genetics began proving their capability to improve traditional breeds as early as 1993 when Wagyu sired steers from Saler cows won the prestigious Grand Champion Steer Award at the National Western Stock Show in Denver, Colorado. In Australia Wagyu infused animals off grass consistently outpoint grainfed traditional breeds in carcass taste-tests.

The potential to use Wagyu to significantly improve the output of better quality carcasses from commercial beef herds in Australia is clear and will have the effect of generating increased sales at greater profit margins as we more effectively meet the new MSA standard of beef quality.
Referenced to Australian Wagyu Association
.. Black Gold Farms - Specialising in Wagyu Cattle ..
Black Wagyu Breeders .. F1 Angus .. Healthier .. Tastier .. More Tender Beef
Jim and Jan Jones .. PO Box 105 .. Ayr QLD 4807 .. Australia
Phone: 07 4782 4236.. Fax: 07 4782 4022.. Mob: 0428 824 236
Email: info@blackgoldfarms.com.au
home | about black gold farms | why wagyu? | origins and facts | grading the meat | open day
wagyu for sale | our wagyu stock
Designed/Managed
nq webdesign